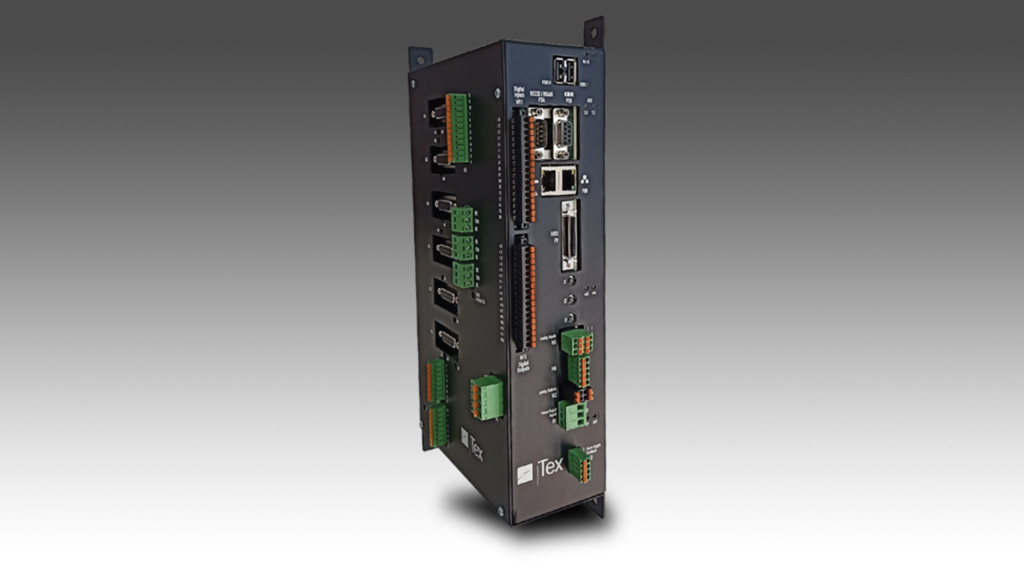 Power A: Power family's most powerful PAC
Cattolica July 2020
The newcomer is undoubtedly the most powerful controller designed by Tex Computer, designed  to obtain the best possible performances through EtherCAT, it is also our first controller intended to be installed with a book configuration in the electric panel  in order to take up less surface area.
Its real time multitasking operating system is able to manage up to four PLC tasks, up to six CNC channels and a HMI with a 7", 10", 15" or 18,5" touch screen display, which can be connected through LVDS to an external operating panel, for bigger size HMIs the motherboard can already be integrated in the operating panel.
The controller can manage up to 40 axes (up to 28 if interpolated between them); the minimum sampling time applicable to EtherCAT fieldbus, for a limited number of axes, is 500 µs.
Alternatively or in combination with EtherCAT it is possible to manage up to 6 axes by piloting the drives in Step/Direction. In this case it is possible to control both open and close loop axes by using 5V Line Driver bidirectional incremental encoders as feedback.
Its standard equipment, composed of 37 digital inputs and 25 digital outputs, nine analog inputs and two +/- 10V a 14 bit analog outputs, can be easily expanded by using EtherCAT or CANopen fieldbuses to add remote I/Os.
Communications with other devices, collocated both at operational level (OT Device) and at informative level (IT Device), are supported by a 10/100T Ethernet port (which supports TexComm proprietary protocol or ModbusTCP standard protocol) and by a wireless port which can manage both the Wi-Fi protocol and the BLE one.